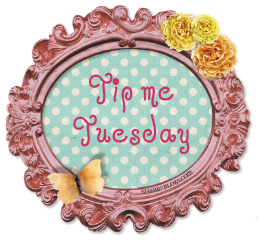 "Where do you put all the stuff you accumulate?
I am running out of places for my "newest" stash! I'm almost embarrassed by how much I have.
I love it all but finding ways to store it is more work then actually using the stuff! Help!!"
This was a question posted by a fellow Pea on
Two Peas
.
I have personally been asked this question time and time again so I though that this would
be a perfect post for Tip me Tuesday!
Over the past few years I have had to come up with some rather creative and unconventional
methods for storing my scrappy supplies.
Being a Military wife you can be moved at a moments notice and where you end up may not have the luxury for ample storage space for a scrap room! This is where you have to get crafty...no pun intended :)
*Hanging mesh or metal baskets can work wonders if you are okay with or able to put a few holes in your roof, they also come in fabric I think. *Behind the door shoe racks for punches, ribbon etc.
*Spinning spice racks for small embellies. These can sometimes be found at yard sales SUPER cheap!
*Get a couple of rolling caddies that you can store paper and stickers in that you can roll right under your work space or out of the way. *Cheap shelving sets can be found at Bed Bath and Beyond of Wal-Mart.
*Your traditional shoe box. These are great for themed storage and stack well. You can get
decorative ones at AC MOORE or Ms that look nice on shelves is you don't have closet space.
*Thin rods, dowels etc are great for storing ribbon! These can be screwed right into your walls at varying heights or hung in some way and will help you to organize your ribbon my colour, theme, material etc.
*Stamps, as we all know, take up an obscene amount of space! Depending on how frequently you stamp
be it on cards, layouts etc. you could store them handy to stored away neatly. One highly effective organizational solution that I swear by is stamping all your stamps on to paper that you will then organize into themes, seasons etc and put it in a 3 ring binder. There have been countless times that I have wanted to use a Halloween stamp, forget what I have, don't want to dig around for a half hour and just grab my binder!
*Store your prints in archival photo boxes to keep them in perfect condition while they wait to be scrapped. Create tabs for each topic or time range, making it easy to return to later.
*Pegboard.... I know immediate shudder! But wait! We can make it cute... yes cute! All you have to do is get your pegboard to your desired size and then to to Ms or another craft store and have is framed in a cute simple neutral frame. It creates a decorative storage unit that can match any decor! I recommend using white hooks and pain them if you would like.
I have used all of these and my life has been that much better because of them!
Here are a few website that I find truly helpful and I'm sure you will too: